Eco

Ball

(Windows 10 | 9 | 8 | 7 | XP | 2000 | NT | ME | 98 | 95)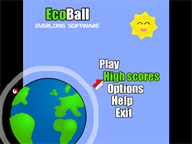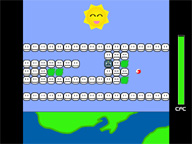 Free download (Windows)
The year is 2505. The ozone layer has been seriously weakened by CFC gases in the atmosphere. Dangerous rays from the sun are already beginning to reach the earth turning many people into mutant apes. To contain the situation a crack team of scientists have put together a device known as the 'Ecoball'.
The EcoBall is a remote controlled ball capable of collecting the dangerous gases out of the air. As its pilot the earth's future lies in your shaky hands. Controlling it will be no easy task, the ball is equipped only with vertical thrusters. Watch out for the stormclouds, one shock and our plans will be ruined!
Good luck pilot!









Features
Simple controls, only 2 buttons required.
Colorful graphics and fun music.
Can be played with keyboard or joypad.
Online high score table - compare your scores and times with others!
Offline high score table - beat your family and friends without remorse!
Requirements
Windows
DirectX
Internet connection
Graphics card capable of 800x600 in 32-bit or 24-bit (wow!)
Free forever
EcoBall is completely free to play and has no adverts. If you enjoyed it please consider adding to the tip jar! :) fank ew.